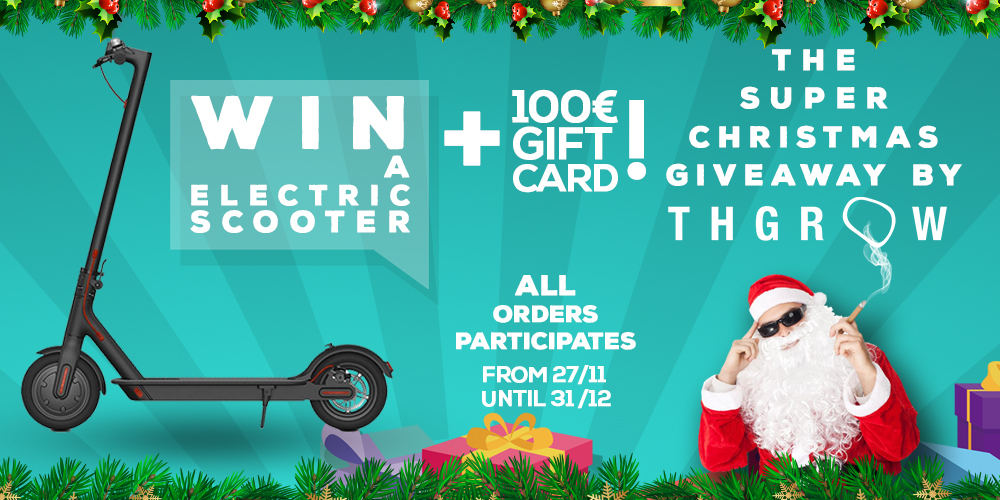 We want to celebrate our third Christmas prize with our customers by starting the draw together with the Black Friday and Ciber Monday offers. On this occasion we have prepared to give away a fabulous electric scooter and a voucher worth 100.00€ in THGrow.com products.

All orders placed between November 27 at 00:00 and December 31 at 23:59 will enter the raffle.

The coupon of 100.00€ is applicable to any section or product of the website. The scooter is a beautiful, modern and lightweigh City Road 365, ideal for urban travel and paved roads. It has 20 km of autonomy and a fast loading time.

Contest organizer
Company: Souvenir Garden S.L. / THGrow.com
CIF (VAT): B73729667
Address: C/Periodista Nicolás Ortega Pagán, Nº5, 30003 Murcia, España
E-mail: info@thgrow.com

Promotion start and end dates
The promotion will begin on November 27, 2019 at 00:00 hours and will end on December 31, 2019 at 23:59 hours.

Date of completion of the promotion and number of winners
- The winner will be selected through a specialized website in a public and transparent way.
- There will only be one winner of the promotion, which will be announced on January 8, 2020. Souvenir Garden will contact this person as soon as possible by the necessary means (telephone / e-mail).
- Shipping costs are included for Spain, Portugal (except Madeira and Azores) and the rest of Europe. For shipping to other countries, Souvenir Garden will inform the winner how much shipping costs are involved and will be able to offer him/her an exchange for a voucher of equal value to the original product pack price.

Promotion mechanics and participation requirements
- Each customer who has received and paid for his or her purchase/s correctly before the end date of the promotion will automatically enter the contest with a participation number that will be the same as his or her order.
- There is no minimum order amount or limit of orders to participate in the promotion.
- If the winning number corresponds to an order that has been cancelled, returned or not delivered or paid on the date of completion of the promotion, this one will be excluded and therefore another number will be obtained to prevent the prize from remaining voided.

Value and nature of the prize offered
The prize of the promotion will be a coupon worth 100.00€ in products from the THGrow.com website and a fabulous grey City Road 365 electric scooter.