TOP 2021: the best-selling cannabis seeds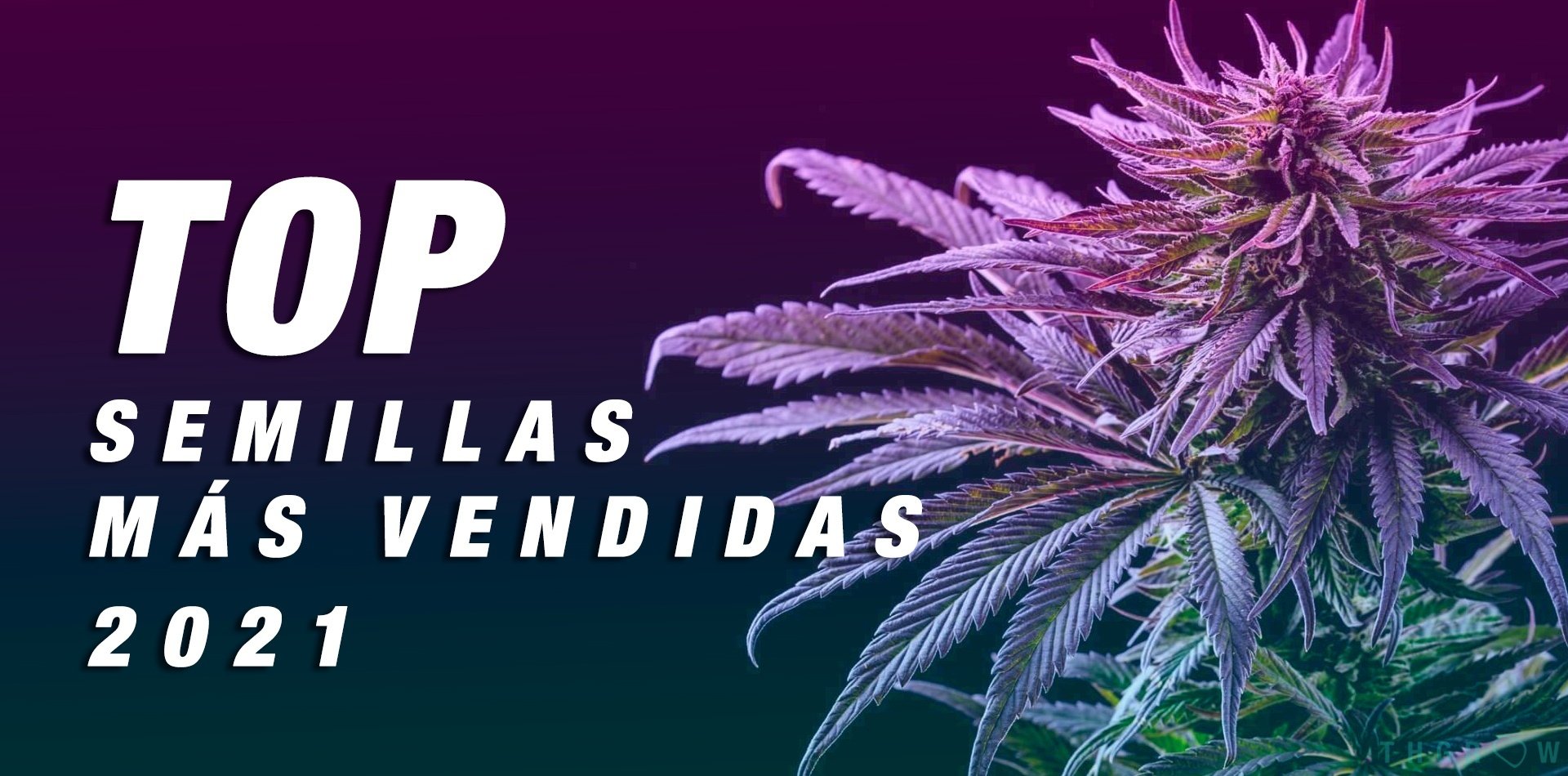 First of all, as always, let's take a look at what's new this year. One of the constants of every year is the amount of products that RAW is able to launch... among other things we can highlight the Rawsome Box Pack, the Cone Duffel Bag or the Murder'd and Mafioso rolling trays, the last one in collaboration with Kingpin. Both in the pack and in the bag we can find a selection of products from the manufacturer that will facilitate and brighten up the day-to-day life of the regular roller.


On the other hand, this year we have three new additions to the website that are being very well received: Anesia Seeds, High Speed Buds and Flash Seeds. Although new here, the guys from Anesia have more than 15 years of work behind them and have breeders in both Spain and California. High Speed Buds is a Spanish seedbank that offers a selection of automatic and fast genetics based on classic American genetics. Stitch is the breeder behind Flash Seeds, a bank that has recently moved to Mexico; to Stitch we owe the origin of the Super Autos, which started with the stabilisation of some Rudelaris from the Romanian-Hungarian border.


And more seeds, this year we have many new seeds. Sweet Seeds expanded its catalogue this 2021 with many classic auto strains from the USA, such as Red Gorilla Girl XL Auto, Bruce Banner Auto, Purple Punch OG o Runtz XL Auto. Runtz is a cross of Zkittlez and Gelato that has become famous for its fruity terpene profile, which makes it smell like a freshly opened bag of candy. From Barney's we also have Runtz Auto, and from Fast Buds we have Forbidden Runtz Auto.


Another elite clone that is making its way into the various seed catalogues is Wedding Cake, also known as Triangle Mints #23 or Pink Cookies. This year we can mention the following additions to our shop: Wedding Cake, from Original Sensible Seeds, a potent and productive Indica dominant; Chemical Bride from Green House, compact, very resinous and with a bushy structure; Wedding Glue Auto from Fast Buds, which is ideal for extractions; and, from the new High Speed Buds seedbank, Auto Lemon Cake, a very resistant and easy to grow hybrid.


Dutch Passion continue to develop their Skywalker line, with the launch this year of Skywalker Haze. Barney's has not been left behind on this occasion either, bringing its Skywalker OG Auto to the market. In addition to the revival of this classic, Dutch have also surprised us with their Amsterdam Amnesia. Other seed banks such as Advanced Seeds, 00 Seeds, Fast Buds, Sensi Seeds and Nirvana have also expanded their range of strains this year with numerous new crosses.


In more technical aspects of cultivation we cannot fail to mention the different LED equipment that continues to be launched on the market, both by established manufacturers, such as Lumatek with its Zeus Pro or Todogrowled with its new TGL, cand by new appearances on the market such as Mars Hydro or Easy Garden.


And we can't forget to mention our own brand:THGrow Collabs. We have started several collaborations with different manufacturers to be able to offer you quality products at a good price. At the moment we have started with a selection of CBD flowers in 1.5 grams and 5 grams format.


Without further delay, let's move on to the topic of this blog post: our top 5 sales in 2021 for seasonal, automatic, high-CBD seeds.



Seasonal Seeds


#5 Amnesia Gold (Pyramid Seeds)

A cross between Lennon and Amnesia Haze that has a cerebral effect and a citrus flavour with hints of wood that lingers on the palate. Pyramid Seeds have managed to bring together several of the most desirable things in a Sativa of this style without taking more than 70-77 days to flower.


#4 Amnesia (Advanced Seeds)

This Sativa dominant strain, apart from its enormous resin and bud production, also stands out for its natural resistance to pests and mould. Advanced Seeds has managed to fix a whole series of characteristics in this Amnesia that make it very special: its distinct citrus flavour, its cerebral potency and a fast flowering time of 65-70 days.


#3 Runtz Muffin (Barney's Farm)

Barney's Farm has managed to get the best out of the cocktail that is the genetics of this strain, where we can find Zkittlez, Gelato 33 and Orange Punch. It is an easy to grow Indica dominant, very productive and resinous, with a complex terpene profile where we find citrus and tropical sweets and with THC levels that can reach 29%.


#2 Critical (Advanced Seeds)

What haven't we already said about Advanced's Critical? In one way or another it always ends up at the top of the charts. This hybrid that grows like a Sativa and flowers like an Indica stands the test of time like its pleasant, warm citrus flavour on the palate, long after it has been consumed. In short, a hybrid that has marked a before and after in the cannabis scene.


#1 00 Cheese (00 Seeds)

For the fourth time 00 Cheese repeats at number one on the list, a hybrid with an unmistakable old cheese flavour that started to catch on in the UK. This 00 Seeds Cheese selection produces long central and compact tails with an unbelievable amount of resin. Watch out for the smells.



Autoflowering Seeds


#5 Auto Critical Orange Punch (Dutch Passion)

In this auto version Dutch Passion have done a very daring job bringing together the best of Holland, California and Spain. The story begins with cuttings from California, Grandaddy Purps, crossed with their selection of Skunk which is Orange Bud to get Orange Punch. The culmination is a cutting from Critical Bilbo to create a very special strain.


#4 Auto Gelato 33 (Advanced Seeds)

Autoflowering from a cross between Sunset Sherbert and GSC's Thin Mints phenotype. It stands out for its power and its sweet taste full of citrus and earthy notes. The bud production is very generous, as is the amount of resin that ends up covering them.


#3 Assorted Auto (Buddha Seeds)

This is the choice of many growers who can't make up their minds or who don't care so much about what to grow as about the growing itself. Assorted Auto is, as its name suggests, an assortment of seeds in which one can find any of the varieties released by the bank to future crosses in tests that will soon be released as a novelty..


#2 Auto Gorilla (00 Seeds)

Auto version of one of the most potent strains to date. It retains its high THC percentage along with a huge yield and will be ready after 70-75 days from seed germination. The cerebral effect is a mix of euphoria and happiness and the taste is earthy with hints of pine and lemon.


#1 Auto Afghan Mass XXL (00 Seeds)

Second year that repeats this autoflowering XXL, developed from the selection of the largest and most productive individuals of Auto Afghan Mass, original crossing of Critical Mass with Afghan. The original flavour is even more marked and strong, so it may be necessary to use something to disguise smells. It stands out for its production, taste, quality and strength.



CBD Seeds


#5 CBD Auto 20:1 (Fast Buds)

After the release of the Dinamed strain by the Dinafem seed bank, many have taken advantage of the original genetics to make their own version. Fast Buds has developed this cross that has a CBD that ranges from 10 to 20% while its THC levels range from 0.3 to 0.85%. This strain is aimed at medicinal use and produces good amounts of resin and buds.


#4 Auto Critical Lemon CBD (Advanced Seeds)

High CBD version of Advanced's cross between Critical and Citral. Its THC:CBD ratio is 1:1 (12% THC, 13% CBD), making it very interesting for recreational users who want to try something new and relaxing. As with its parent, these are very resinous plants with an intense citrus, grapefruit and spicy aroma. Ready 70-75 days after germination.


#3 Red Pure Auto CBD (Sweet Seeds)

Part of Sweet Seeds' Red Family, Red Pure Auto CBD has the peculiarity of often reaching maturity with red, purple or even bluish tones. It has quite low THC levels (0.4 - 0.5%), while CBD remains between 15 and 17%. The appearance of the plant is Indica, with a large central bud and short side branches. Sweet and earthy taste.


#2 Sweet Critical CBD (00 Seeds)

High CBD version of Sweet Critical, a 00 Seeds development of a Critical Mass from Switzerland. It has a CBD:THC ratio of 10:0.15 (18 - 22% CBD, 0.3% THC). It inherits all the intense sweet and fruity aroma of its parent. Its cultivation and final appearance are equivalent to those of a seasonal strain, so you can expect a quality final product.


#1 Bubble Gum CBD (00 Seeds)

Bubble Gum is a classic, veteran strain that was originally grown in Indiana, USA. Two cuttings came to Holland, one went to Serious Seeds and the other to T.H. Seeds. So we can say that there are two "original" Bubble Gum. Now the 00 Seeds bank presents its version with high CBD content and that keeps all the desirable traits of its parent.
---

This year we can notice that, although we have some classics always present, little by little new developments from different seed banks are making their way onto the list. Have you missed any particular strain? Have you grown any of the strains on the list and would like to give us your opinion? Don't hesitate to use the comments. We want to show our special thanks to all our customers because without you these lists would not be possible. Happy New Year, see you in the Top 2022!